Tools for Working From Home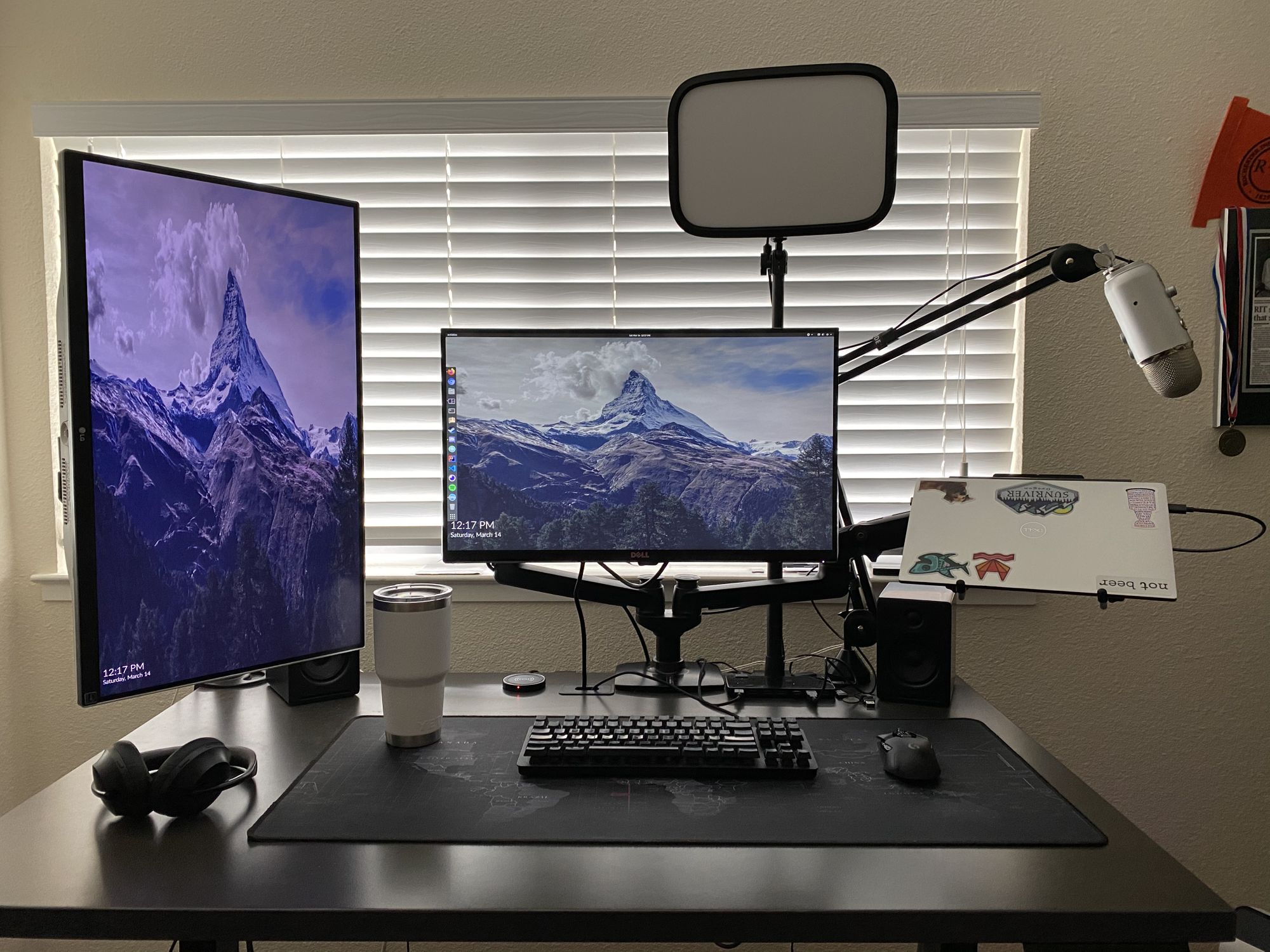 The many years of my career, I've been working from home or working remotely for companies distributed around the world. Here are some of my best tips and tools that have helped me succeed, minimize stress and some things to avoid based on my experiences over the past 15 years.
Tips:
Separate your environments. As I write this post, I realize it doesn't make much sense to use a coffee shop as an example, but it's very important to separate your concerns. If you can avoid it, don't work from bed, specifically if it's the bed you sleep in. Work from somewhere else, and if you have a door, close it.
Use comfortable tools. I'm a fan of Notion.so to store all of my thoughts, meeting notes, and plans. It's fast enough that I can open it up, create a new page and start dragging stuff in and share if it I need to. It's like Evernote, execpt better.
If you use slack, irc, discord, etc: turn off notifications unless you're specifically mentioned. This is absolutely huge. I've written about my dislikes for chat as the primary source of communication over the past few years. You don't want someone tapping you on the shoulder every 6 seconds at work, so why would you want that at home?
Face-to-face is impossible to replace, but with COVID-19/Coronavirus in the wild, you obviously want to avoid that. In the past I've used Zoom, Google Hangouts, Skype, BlueJeans, FaceTime, and a few others. I don't want to install software on my machine or buy anything—especially not insecure software—so today I use 8x8.vc, which is free and open source (up to 50 people per meeting). Don't need to sign up or download anything, so they can't sell your data, which is another plus. Just a browser and an internet connection.
Noise cancelling headphones. Seriously, these things are incredibly helpful when you need to focus. Half the time I don't even have music playing, but when I do and really need to focus, it's always music for programming. I recently upgraded my Bose QC15s to the Bose 700.
Have a comfortable setup. I always use an external keyboard and mouse at home. I've got an external monitor and a super awesome chair (don't skimp on this). I'm also lucky enough to have a motorized sit-stand desk. If you don't have these things, I highly recommend a laptop stand of some sort. I'm a huge fan of the roost laptop stand. It folds up, keeps my neck from being strained, and reduces my poor posture. I travel with it everywhere.
Spend the extra time to communicate clearly. Spamming out a few chat messages isn't nearly as helpful as writing in long form.
Take breaks! There's no shame in going outside in the middle of the day, going grocery shopping or working out during lunch.
Things to avoid:
Don't work from bed. Keep your concerns separate. If you start working from bed, then bed doesn't become a place to get away from work.
Don't snack on chips/junk food all day. Admitedly this is hard.
It's always faster to make coffee than to go out to Starbucks. It'll also save your wallet significantly.
If you have a room with a door, shut it and keep it closed while you're working.
Don't be inside all day. Get some exercise, get some fresh air, and look out at the horizon as much as you can. It's to reduce eye fatigue. They say every 15 minutes, but let's be honest, no one is actually doing that.
Don't under communicate. It's always better to over communicate and to communicate clearly than to be afraid to say things.
Wait until people are finished talking before jumping in. I'm terrible at this, but I work hard to be better. In person you have a zero latency communication, but over the internet there's always lag. This is true even on cell phones. Plus it's just courteous. Luckily 8x8.vc has a cool "raise your hand" feature. The other tools might as well, but it puts a little indicator showing that I want to say something. Very useful during meeting of three or more.
Don't be shy about asking for help!
These are the things that have helped us be successful at companies including Buffer, Yahoo, Brightroll, and Sidestep. I'd love to know how you're getting on. I've been a huge fan of remote work for years and have found many upsides to working remotely. Good luck and if you want to chat, reach out to me on twitter.
P.S. You should follow me on twitter here.